Possum TV Live Home Page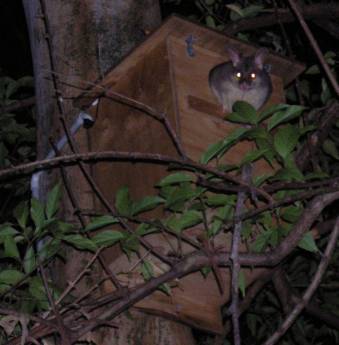 What is This?
You are looking at a server for webcams monitoring possum nestboxes in a suburban backyard in Brisbane, Australia. There are 8 box cameras being monitored. From this site you can view these cameras live, as well as download movies which were recorded whenever motion was detected in a possum box. There is also a Blog and YouTube Channel associated with this site. Be sure to check them out if you like cute possums.
When to Look
Possums are nocturnal. A possum will normally enter their nest box an hour or so before dawn and leave it fairly soon after dusk. These times vary considerably according to the individual possum and the weather conditions—some like to sleep in, especially when it's cold and wet. Sometimes a possum will visit a nestbox briefly during the night, but your best chance of seeing one is during daylight hours. For the benefit of overseas and interstate visitors, the local time is shown below.
Brisbane time is: 6:23:33 PM
Dawn: 4:19 AM
Dusk: 6:54 PM
It is now: Daytime—possums may be sleeping in boxes

Possums are very irregular in their habits. They don't always go back to the same box every night, but alternate between sleeping places on a random basis. On a couple of occasions there were eight possums (four mother possums, each with a baby) sleeping in the boxes simultaneously. At other times all boxes have been unused for weeks at a time. The best time to watch is when there are pouch babies - they come out of the pouch and play in the daytime. I will normally post a Baby Possum Alert on the blog to let people know when this is happening. But feel free to watch at any time.
Bandwidth Issues
This site has a limited bandwidth uplink. Originally, it didn't provide full streaming video at all and was limited to an old-fashioned webcam interface with a snapshot of the possum box which updated every couple of seconds. This has now been changed and streaming video is provided by default. However, it is possible to switch to the old periodic update method via the radio buttons on the bottom of the screen if you desire. You might want to do this if streaming stops or gets slow and jumpy due to network load. Unless things are really bad, you shouldn't have to go any slower than a 2 second update rate.
---
See the Possum TV Blog and YouTube Channel. Also on Mastodon.